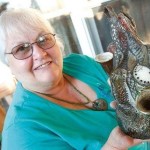 Our specialty is quality design and development of your internet presence. Our focus is to create a visually appealing site that loads quickly, contains information that your visitors are eager to learn about with a navigation structure that is simple and efficient. Our staff has been in the internet development business for over 20 years, and our experience in all phases of the process will benefit you! We offer WordPress sites, PHP and MySQL database driven sites and so much more. We also offer maintenance of existing sites.
Our designer, Susan Nolt-Banks, is well-versed in the creation of quality web designs. "Web design and development combines my love of graphic design and art with my obsession for computers! It's a labor of love, for sure!" Susan has been designing for the internet since 1994, previously for a her own company, then for a company specializing in web design located in Medina County. She had been associated with Intelligent Network Design, Ltd. for nearly five years and joined forces with VVE Computer Consulting to add her web design talents to the services offered.
Contact Susan by calling 330-737-7442 or via email susannoltbanks@gmail.com.